Hello!
As may recall from the previous post, I just recently got a new miniature cast-iron skillet.
And tonight, I made a pull-apart biscuit, using premade buttermilk biscuit dough.
The caption basically has all the directions… I used some form of pre-made dough, took an individual biscuit's worth, made mini dough-balls from the single biscuit serving, placed int the skillet, and then baked it in the toaster-oven. (Note: I needed to go up a few degrees and cook for a while longer than indicated on the packaging. I'm guessing this is primarily due to the toaster oven itself. But, yeah. Be aware of that.)
The end result was quite good.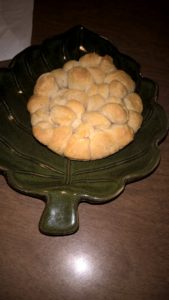 Enjoy!